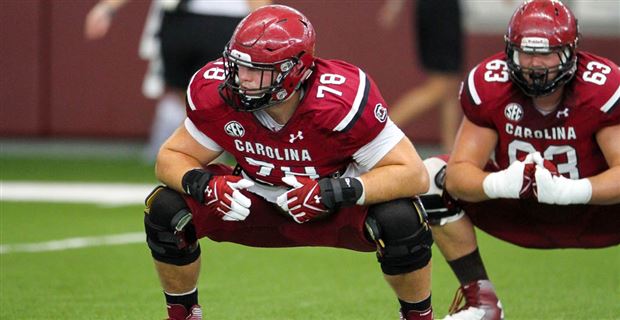 (Photo: Katie Dugan, 247Sports)
Two of South Carolina's three injured offensive linemen will be game-time decisions for South Carolina's Saturday noon contest at Tennessee.
Coming back from ankle injuries junior right tackle
Zack Bailey and senior right guard
Cory Helms will make the trip to Knoxville with the team after practicing this week. Head coach

>
Will Muschamp provided the update during his call-in show on Thursday evening.
"Both are making the trip, both will be game-time decisions. As far as where are they are we are still 48 hours out far as being able to make those determinations," Muschamp said. 
The third injured lineman, junior right/left tackle
Malik Young will not travel with the team as the injured ankle he suffered against Texas A&M has not allowed him to do much on the practice field. Muschamp said he is not physically ready to get going, but with the team having their open week next week he is certainly optimistic Young will be back against Vanderbilt on Oct. 28. 
Bailey has been out the longest suffering a high ankle sprain against Kentucky on September 16. Helms went down the next game against Louisiana Tech and was lost after the first offensive series. 
South Carolina's offensive line of
Donell Stanley , and
Blake Camper had its best run blocking performance of the season last week against Arkansas.
Injured Gamecocks
Zack Bailey – sprained ankle (injured vs. Kentucky)
Cory Helms – sprained ankle (injured vs. La. Tech)
Malik Young – sprained ankle (injured vs. Texas A&M)
Terry Googer – head injury (will not travel to Knoxville)
Kyle Markway – fractured rib (nearing end of six-week timetable)
Deebo Samuel – fractured fibula (suffered in mid-Sept, return unknown)
K.C. Crosby – fractured fibula (suffered last week, season in doubt)
Bryson Allen-Williams – shoulder (out for season)
Jaylin Dickerson – shoulder/nerve (out for season)
Not a VIP Member? Try us FREE for 7 Days! | Sign up for our FREE newsletter!
Source : https://247sports.com/college/south-carolina/Bolt/South-Carolina-Gamecocks-Thursday-night-injury-update-before-Ten-108814480